Unicard has changed
We have updated the unicard system for Hospitality services.
We want our unicard customers to benefit from exclusive deals and earn reward points for using our services.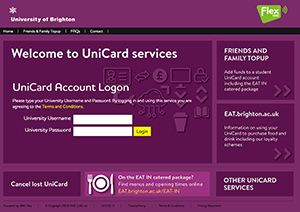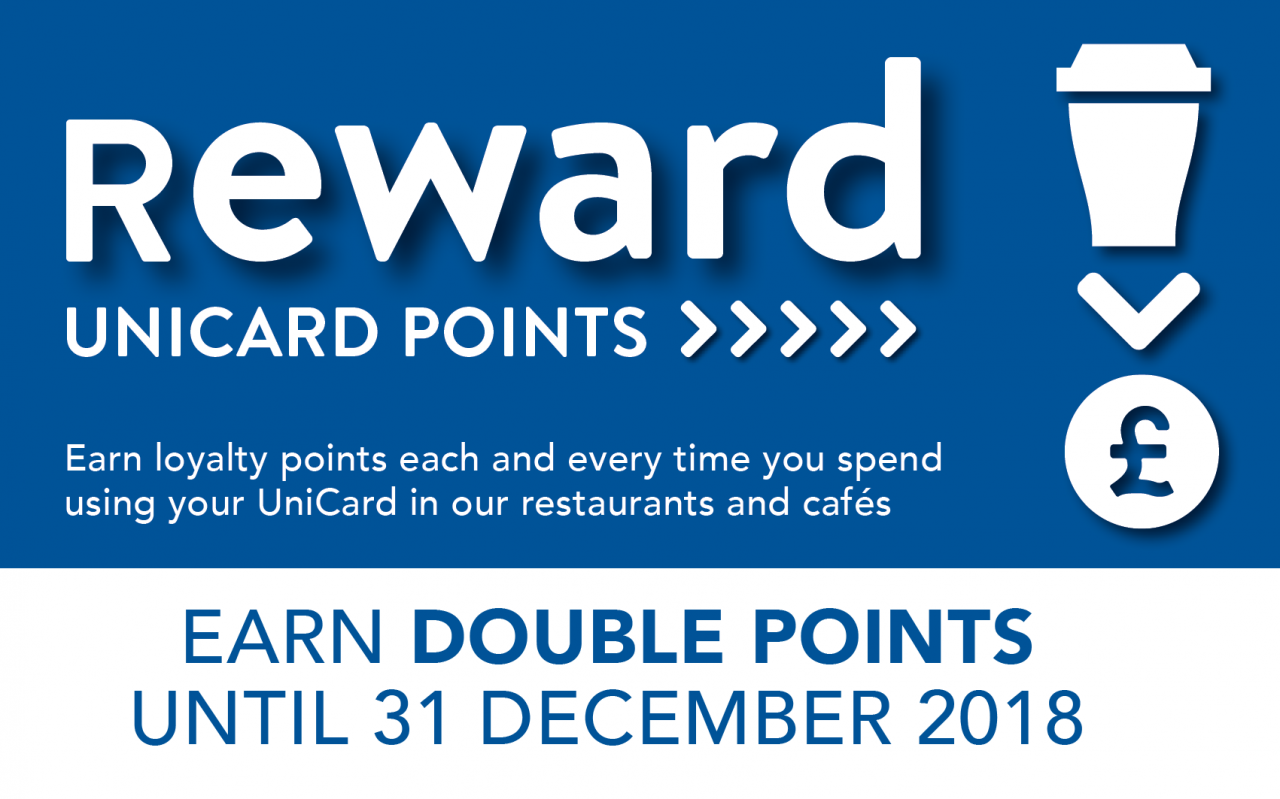 NEW FROM 17 SEPTEMBER 2018
Earn reward points
Easy top up
What is new
Quick top up process including an auto top up option
The new unicard will allow quicker top ups onto your account. The system will securely store payment details to allow funds to be added without having to repeatedly enter card details. If you want to you can set the system to automatically add funds if they drop below a certain limit. This function can be changed via your user account.
Manage your account via a brand new unicard web portal
The new unicard web portal will allow you to check your account including your current balances and expenditure. You can easily add funds – and if you want enable or disable the auto top up functionality.
From now on unicard users will earn reward points for purchases - and earn additional points on certain purchases
Customers will now earn reward points every time they purchase items at our cafés and canteens when using their unicard as the payment method.
Throughout the year we will offer additional reward points on certain items – so keep an eye out on this website or within our facilities.
Reward point scheme will be on your unicard
Details of the reward points will be stored on your unicard account and you can use these reward points via your unicard or the mobile app to buy our products.
Stamp schemes will be automatically held on your unicard
Our MyCUP loyalty scheme will now be kept on your Unicard account when you use your unicard to make the purchase. Every time you purchase a hot drink with your MyCUP the unicard system will know – so no need to remember to get your card stamped – and no longer an issue if you lose the card.
Automatic access to exclusive deals and promotions
As well as earning reward points for purchases we plan for unicard users to receive exclusive deals and promotions – so remember to occasionally check your unicard account!
COMING SOON
Manage your account via a brand new app version (android and iOS)
The new App will provide the same information on the web portal but optimised for mobile devices.
The App version will allow payments via your phone
Similar to other methods of paying via your mobile device the App will allow you to make a payment via your phone.
WHAT IS STAYING
Your unicard will still work for all the other unicard services that you may currently use including access control
You will see no difference in using your unicard for other services – the only differences will be the look and feel of the web portal or mobile app that you view your account information. For information on other unicard servcies please go here.
WHAT IS GOING
The current 10% discount will no longer apply for users as this will be replaced by our new reward points scheme
You will no longer receive a set discount when you purchase but instead you will earn reward points each and every time you spend – and additional points during some promotions. These points can then be used to pay for items.
Until 31 December 2018 you will earn DOUBLE the reward points for using your unicard to purchase non promotional items.
For EAT IN students
The unicard is also used for our students living in catered accommodation; you are provided with a breakfast and dinner token 5 days a week Monday to Friday. This means over the academic year with us you'd have 155 breakfasts and 155 dinners. Our EAT IN menu is a 3 week cycle that changes after it's been run twice. The EAT IN menu can be found on those outlets that provide the service.

Our team of chefs tailor menu's based on feedback and because of how regularly we change the menu you get a massive variety of options. If you have special dietary requirements please speak to a member of staff in your EAT IN restaurant, or contact us here.

Find out more about EAT IN.