NEW HOSPITALITY BROCHURE
We have revised our hospitality offer for the new academic year. Details can be found in our new brochure.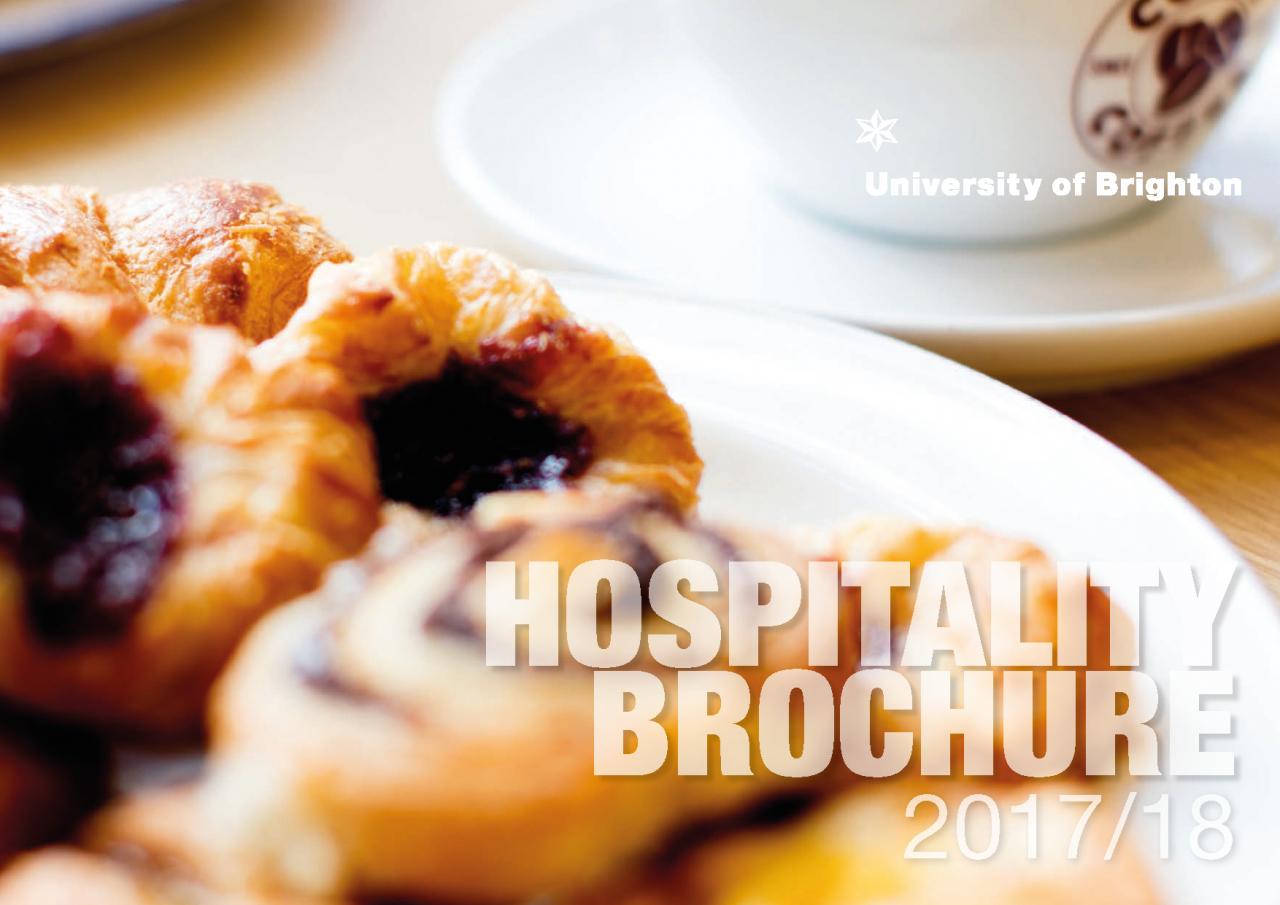 Who we are
Hospitality Services operate on every campus providing sustenance for the entire University community. From restaurants and cafes to vending, conference catering and hospitality we are committed to providing high quality service and products.
We are also committed to providing a service that incorporates wide ranging environmental considerations and the sourcing of ethically produced ingredients. We also offer unrivaled value for money and a service that is responsive to the needs of our customers.
In recognition of our work we have been recognised by a number of awarding bodies and certification schemes. For more information on these and any other aspect of the services we provide please contact us at hospitality@brighton.ac.uk.
What we offer
If your event needs hospitality then book with us.
Hospitality Services deliver food and drink across the entire university estate. From small meetings to large conferences, we are experts in providing a hassle free service ensuring that colleagues and customers receive the hospitality requirements that you book.
Our online booking system makes creating a booking simple and easy - with transparency of cost and a record of past and future bookings. If you want something different, or specifically bespoke to your event and requirements, then speak to us as we are happy to accommodate all manner of expectations.
A variety of choices to meet your requirements
The menu options you will find online cover a variety of choices - from the straightforward delivery of teas and coffees, to working lunch offerings and on to the more elaborate finger and fork buffets. We can also provide a variety of canapé options and reception style menus.
Vegetarian Society approved caterers
Hospitality Services are an approved Vegetarian Society caterer.
This is in recognition of our work to ensure all products, including those served as part of the hospitality service, meet the standards set out by the Society. In a nutshell, it provides customers with a reassurance that no foods labeled as vegetarian will contain any trace of meat, fowl, fish, or shellfish. It also means that all eggs are free–range, and stocks and fats used for vegetarian foods are entirely meat, fowl and fish free.
Special diets
All set buffet and sandwich options have been developed to cater for both meat and fish eaters, and vegetarians. If you would like your choice to be weighted in either way, please contact the relevant Hospitality Manager. We can also cater for special dietary requirements, advice on which can again be sought from your Hospitality Manager.
Nut and shellfish allergies
All hospitality food items are prepared in an environment where other foods, such as nuts and shellfish, may be present. If you require any further information please email hospitality@brighton.ac.uk.
All bookings are done online. The online booking system contains all the up-to-date menu choices and options from which you can choose. You cannot book within 48 hours of your event, but if you do have a last minute request, then please contact the Hospitality Services team.
Items are placed in a 'basket' giving you transparency of cost before you complete the order. We are sure that you will find exactly what you require, but if you wish to discuss alternative options, or would like advice on making a booking, please do not hesitate to contact the relevant Hospitality Manager. Details below.
Step 1
First of all you will need to log in using your normal university user name and password. You will also need the cost code for payment of the booking, as well as the name of the person who has authorised the booking.
Step 2
In the left hand column you will need to input the basic information for the booking, for example the date and time, number of people, and location. Most of these details can be modified later if necessary.
Step 3
Choose the items you would like to order from the menu options in the left hand column. Items you order will appear in the bottom right hand column along with the associated cost. If you need to change some of the booking details, you can also do this in the right hand column.
Step 4
Click 'continue' and you will able to alter the delivery date if required, plus also add delivery notes and any other information. If you want to add another delivery to this order - for example, another serving of coffee and tea at a later time - you can do so on this screen.
Step 5
When you click 'check out', you will see your order summary. Before you can confirm your delivery, you will need to add in a valid cost code for payment of your order, and the name of the individual who has authorised the creation of this order. Make sure you have you read our terms and conditions.
Step 6
Confirm your order. At this stage you will be emailed confirmation of your order, and the hospitality site that is responsible for the delivery of your booking will also automatically receive the details of your order. Problems booking? If you're having problems creating your booking please contact your local hospitality service and we will be happy to assist.