The University of Brighton is the first university in the country to launch a campaign to cut sugar consumption. Now the UK goverment has introduced the soft drinks industry levy.
The University tax was introduced in the 2016/17 academic year with support from the Jamie Oliver Foundation and Brighton and Hove City Council's Sugar Smart Team, using the 5g sugar threshold that the Government's sugar tax will use.
Results so far have shown a marked shift in purchasing patterns at the University's campus restaurants.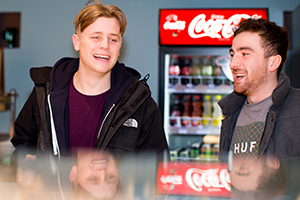 Drinks with a sugar content of more than 5g per 100ml will be taxed 18p per litre and 24p for drinks with 8g or more. The tax will help to reduce sugar intake, University of Brighton research has shown that sugary drinks lead to type 2 diabetes with over 135 related operations a week. Figures show that 58% of women, 68% of men and 34% of 10- to 11-year-olds in the UK are classed as overweight or obese.
The tax alone is not going to solve the sugar consumption problem overnight. Sugary drinks may be a leading source of sugar in the UK diet, but they are not the only contributor to obesity and diabetes. What this taxes can do is contribute to change which our early adoption has proven. The tax is applied at the supplier level, so the cost of purchasing in the products is where the price change begins.
The University will be keeping the price differential as the Government's sugar tax is implemented – the price difference will be bigger because the sugar levy is also subject to VAT and these extra costs are being passed onto us by our suppliers. This price change is then passed onto the consumer to discourage habits and create behavioural change, which is the goverments purpose behind this campaign.
The UK sugar tax aims to incentivise sugar reduction in drinks. Because it is imposed on drinks over a certain sugar threshold, manufacturers have the option of lowering sugar levels to avoid the tax. This way, the government is sending a clear message to the industry.
Julie Barker – Director of Accommodation and Hospitality Services; Since the announcement of the Government's levy, she said, "the drinks market has gone through and continues to go through a revolution. There has been a significant number of new products introduced into the market and the large brands have and continue to reformulate products to reduce the sugar content."
According to the the UK Treasury, over 50% of soft drinks manufacturers (including retailer own-brands) have already reduced sugar levels, responding to the stick of legislation. The Treasury has downgraded its forecast of how much money the levy will bring in – still standing at £240m.
Dr Claire Marriott, Senior Lecturer in the university's College of Life, Health and Physical Sciences, is leading new research with Professor Adrian Bone, Professor of Cell and Molecular Biology, and Dr Wendy Macfarlane to find new ways to help people understand the need to cut back on sugar in order to avoid obesity and related conditions.
She said the problem was urgent: "Obesity and Type 2 diabetes are inherently linked and the complications associated with both can be very serious. For example, Type 2 diabetes is the leading cause of amputations, with over 135 related operations a week. In addition to the personal cost, which should not be underestimated, tens of millions of pounds are spent in Brighton and Hove alone to treat people with Type 2 diabetes. Nationally, 10 per cent of the entire NHS budget is spent treating this disease and associated complications."
Dr Marriott and her colleagues said they were excited about the potential for this new initiative to get people talking and to raise awareness of sugar consumption: "The sugar drink levy is a useful way to get people thinking but we really need to help people understand why they shouldn't be eating too much sugar and to identify food and drinks high in 'hidden sugar'.
"The Government will introduce a sugary drinks tax in 2018 but we want to get people talking now. This is just one of a number of positive actions by the university, including looking at making healthy options more accessible on a budget. We know this isn't going to solve the obesity crisis alone but it gives us a great platform to get started."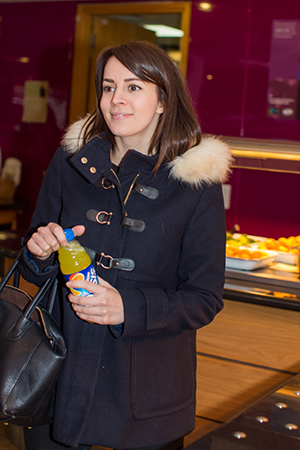 In October last year Brighton and Hove became the first UK city to tackle sugar consumption and the city council unveiled its SugarSmartCity campaign. Sussex County Cricket Club recently joined in and other educational initiatives have been introduced since January.
Carol Williams, Principal Lecturer and public health nutritionist in the University's School of Health Sciences, said students might arguably be more price sensitive than the general public, but the main target for Public Health England's sugar reduction action are young people 11-18 years who will also be very conscious of price.
"Young people are being targeted because they consume three times more sugar than is recommended and the biggest share of this comes from sugary drinks.

"The University will be keeping our price differential as we implement the Government's sugar tax – the price difference will be bigger because the sugar levy is also subject to VAT and these extra costs are being passed onto us by our suppliers. We will be monitoring what happens."