Our Greatest Asset!
We know our staff are our most important asset - they spend the day ensuring we continue to provide a happy, passionate service across all our outlets. If our team are happy, our customers are happy too!
Our ability to change and innovate is led by our staff and our focus on customer experience, and what better way to understand our customers than by having them on our team? We are lucky enough to have over 80 university students working for us, in addition to a diverse mix of experienced Hospitality staff and talented chefs. Having such a dynamic and varied team means that we are always debating new ideas, and our service benefits from a wide range of different outlooks.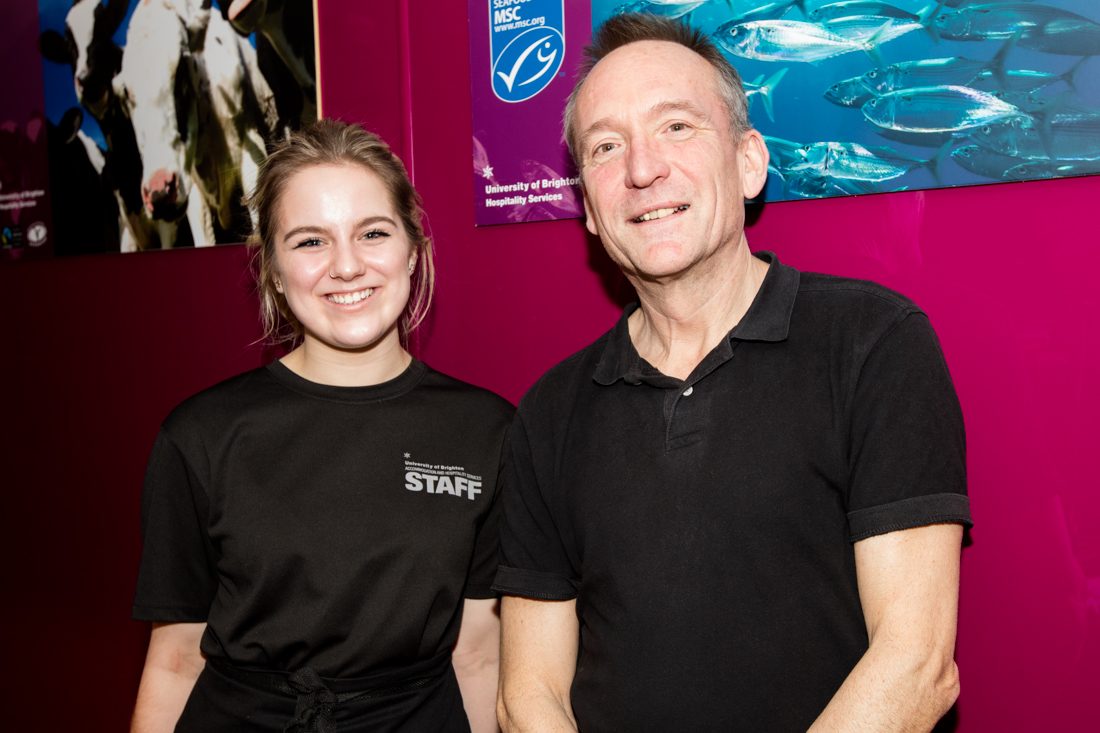 Fancy working for Hospitality Services?
Accommodation and Hospitality Services has always looked to employ students - and we do so in increasing numbers. Here we talk to Josh about what he contributes to the department.
JOSH - CATERING ASSISTANT
How long have you been working for the university and in what capacity?
My name is Josh; I am in my final year and have been working for the university, as a catering assistant at Varley Park, for the past three years.
What does your job involve?
Working as a catering assistant at Varley offers a range of various roles which involve; working in wash up, pot wash, serving assistant, working the till and chef's assistant. No two roles are the same and each provides a level of responsibility from helping prep the evening food, to serving the food and washing up.
Each role is at the heart of making sure all catered students are provided with the best possible dining experience and service we can offer.
What aspects do you like about your job?
Working at Varley offers a very enjoyable working environment. There is a very close team of no more than 15 members, who all get along really well. As we are all students we tend to get along really well with of the other catered students too. The job involves
a lot of hard work, but there is a nice social balance which makes it a really fun and rewarding job at the same time.
What aspects of the job do you dislike?
There is nothing which I can safely say I dislike about working at Varley. However, a please and thank you tend to go a long way from the catered students.

Would you recommend the job to others?
I could not recommend this job enough. Varley has a young enthusiastic student based workforce, where you are not tied down to any set shifts, making it a very flexible job where you can work as often as you like. Each day is different, and the time flies by when on shift.
Would you encourage other areas of the university to employ students, and if so, why?
I would strongly recommend other areas of the university to include more students in their workforce. From experience, students are hardworking and provide a huge surge of energy and enthusiasm into the workplace. Students are adaptable and can mould well to any job. As I work in an area which directly impacts students living and university experience, I feel as though we can be more relatable and have a great communication touch base directly linked to other students.
Casual Catering Assistants
We've filled our ranks for the time being - the amount of applications has been overwhelming. We will announce on social media when we require more staff to join our team. Our jobs are designed to be flexible, your study will always come first.
For full or part-time jobs with us please visit jobs.brighton.ac.uk.
"Accommodation and Hospitality Services are responsible for providing a range of support services for students, staff and visitors. The department is responsible for the delivery of high quality student accommodation, food and beverages, conferencing and community liaison.
We strive for excellence; our passion is providing the best possible service to all of our customers. We only achieve this because our staff love what they do, and work tirelessly to achieve the best."
Julie Barker
Director Accommodation and
Hospitality Services